Naples, Florida
Naples
is truly a magical place to call home. As you drive through this wonderful, charming, area you will find yourself saying, THIS IS IT! Beautiful clean flowered streets, paved walkways and a place where fine dining is a standard await you.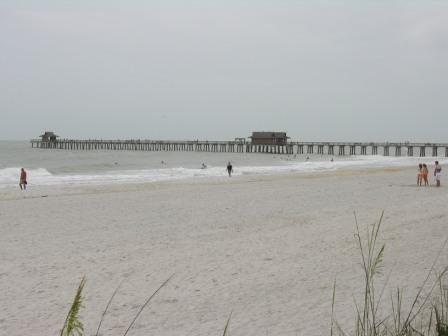 Naples is home to approx. 280,000+ year round residents. Many winter residents chose to buy homes in the area so they can spend months at a time taking in the beautiful surroundings. Tourists continue to come all year, although most visitors come during the winter months to escape the icy temperatures up north. Many of people who come just for the winter months end up staying longer and longer until they are permanent residents, due to the fact that Naples is a great place to live year round.
Magnificent sunsets, ocean views, sandy beaches, palm fringed streets, brilliant vibrant flowers, wildlife, mangroves, wetland preserves, are only a few of Naples' qualities that lure people to this fabulous area. Wildlife is abounding in many of the areas with the Everglades just steps out your back door. Enjoy many of the sites: Naples Zoo, Ten Thousand Islands National Wildlife Refuge, boating or kayaking through the mangrove estuaries, and The Everglades National Park are just a few of the wonderful natural sites. Naples is truly a beautiful place to live, work and play.
The coastal area has a special appeal to birdwatchers, boaters, and fisherman and of course to golfers. Naples is nationally recognized for the amount of golfing opportunities it offers. There are many top ranked golfing facilities if golfing is your thing. If you have not had a chance to discover some of the wonderful treasures that this area has to offer you will see why Naples is one of the fastest growing areas in the nation.
The beach isn't the only attraction for residents and visitors. In 1999, Naples was voted second only to Myrtle Beach , South Carolina in the amount of retail space it has per resident. In some years, it has taken the top spot thanks to centers like The Village on Venetian Bay . One can't help but fall in love with the wonderful architecture. At night enjoy a stroll and watch the light show from the water. The Dockside Boardwalk is Florida 's only outdoor shopping area on a boardwalk.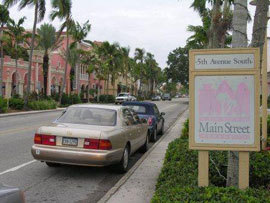 Located in the heart of Old Naples you'll find a mix of quaint and colorful shops and restaurants.
Culture you say? Naples hosts a variety of fine art galleries and studios, museums, as well as professional theater troupes, symphony orchestras, and programs that entertain as well as enrich your soul.
Naples offers the International College for those that want to enlightened or take up a new career. The new addition of Ave Maria University has brought many opportunities to the higher education to the Southwest Florida area.
The Naples Pier is one of most historical sites which is definitely a must see. Enjoy the dolphins that frequently visit at dawn and sunset. In Naples , its no secret fishing is a favorite pastime and the Naples Pier is a favorite to many. Even Hollywood recognizes that fact with "Gone Fish in", starring Danny Glover, which was filmed in and around

Experience Naples , where the heart and soul of the South are ready to welcome you. Enjoy the beauty of the surrounding communities in Collier County including Port Royal, Olden Naples, the Moorings, Park Shore , North, East, and South Naples, and rural neighborhoods such as Chokololskee and Everglades City .
A drive around Port Royal is always a dazzling experience. Although the president of the United States doesn't live in Port Royal , the area has attracted retired presidents and chief executive officers of several Fortune 500 companies.
Naples is known as Florida's most gracious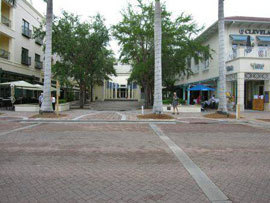 city, come and be part this little paradise! Once you visit you'll want to stay! The Coats Team will be there for you when you are thinking of buying. Get the real estate knowledge and service you deserve with a Top Notch Real Estate Consultant, call on Deb Coats!